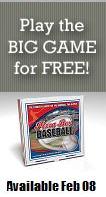 PBF Expansion Rules
Pizza Box Football's Expansion builds upon the rules of Pizza Box Football game. Click here if you need to view the Pizza Box Football rules. The expansion rules reveal Pizza Box Football's expanded plays and rules for playing with the expansion's 32 teams.
Expansion Play Sequence Rules
Learn how to integrate the expansion play sequence with your existing game or with the team cards.
Rules of Play for Expansion Teams
Learn how to apply the teams' different strengths and weaknesses on offense and defense.